Grilled Caesar Salad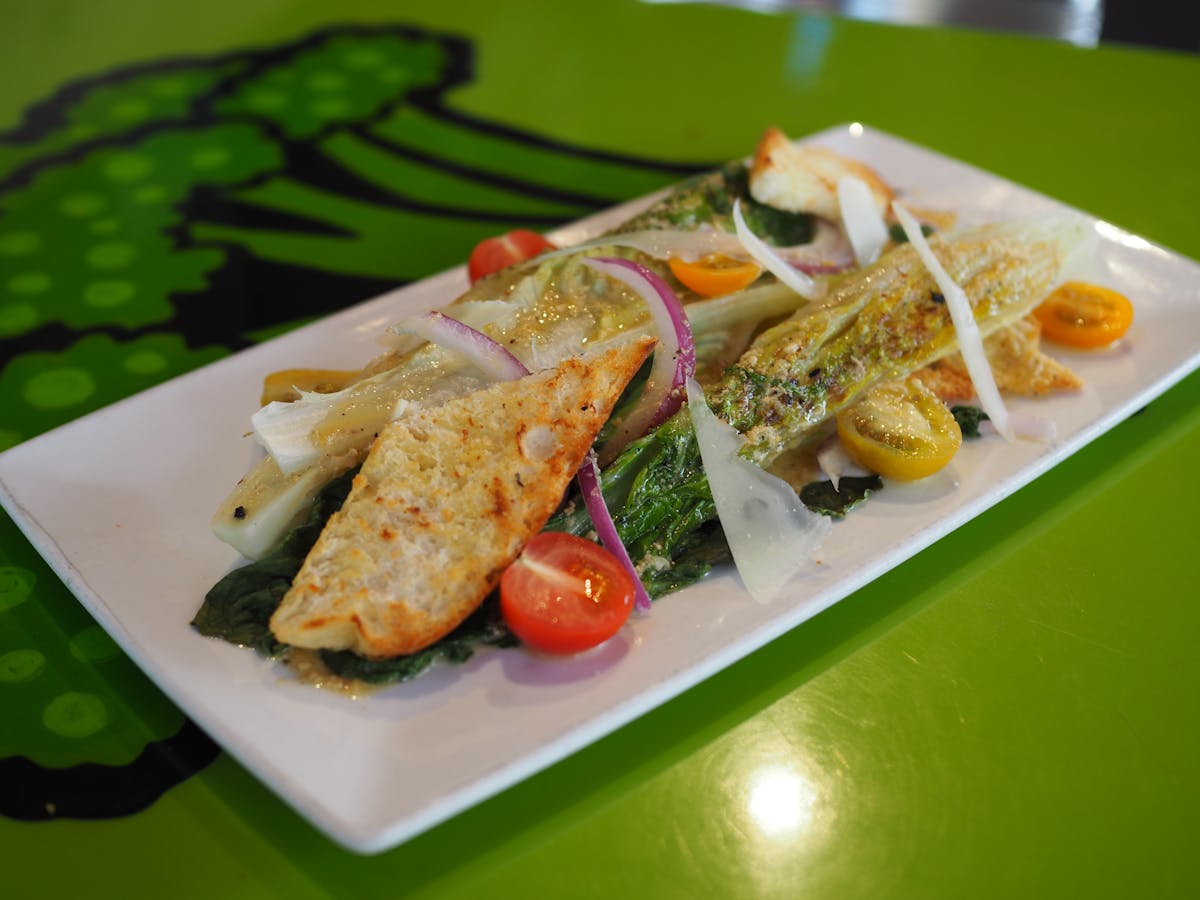 And some extra dressing, because it's so good. | Romaine lettuce, pecorino Romano, cheese, cherry tomatoes, red onions, focaccia crostini, lemon Caesar dressing.
Salad ingredients
2 romaine lettuce hearts
1 small red onion, julienned
Pint of cherry tomatoes (only use what you need for the salad)
1 small wedge Pecorino Romano (for salad topping)
1 loaf focaccia for crostini (or choose to use purchased or home-made croutons instead)
Lemon Caesar Dressing
2 lemon juiced
4 anchovies rinsed in cold water
3 cloves of garlic
1 egg yolk
1 tsp dijon mustard
2 tsp Worcestershire sauce
1/4 cup red wine vinegar
3/4 olive oil (or oil of your choice)
2 tsp black pepper (freshly ground if possible)
3 tbsp grated parmesan
Salt (to taste)
Make the dressing
Mince the anchovies and garlic and place in a bowl or dressing shaker.
Add lemon juice, egg yolk, Worcestershire, red wine vinegar, black pepper, dijon mustard and shake well.
Add oil, shake very well, add cheese and set aside till needed.
Preheat your grill
Focaccia Crostini: Slice the bread 1/2 inch thick, planning on two-three pieces per salad. Place the bread on a baking sheet or plate. Drizzle olive oil over bread. Add salt and pepper. Grill them for three minutes on each side before removing. Store your bread on a plate or baking sheet until you are ready for it.
Grill the romaine
Cut the romaine hearts in half, lengthwise. Drizzle them with olive oil, sprinkle with salt and pepper.
Place them on your hot grill, cut side down for 2 to 3 minutes
Build the salad
Place on to two pieces of focaccia on your plate.
Layer the grilled romaine halves on top of that.
Add your desired amount of red onions and tomatoes.
Drizzle the dressing over your entire salad.
Finish by grating the Pecorino Romano on top, and placing two wedges (one piece of focaccia cut in half) over the salad.