Maple Chipotle BBQ Sauce for (Pork or Chicken)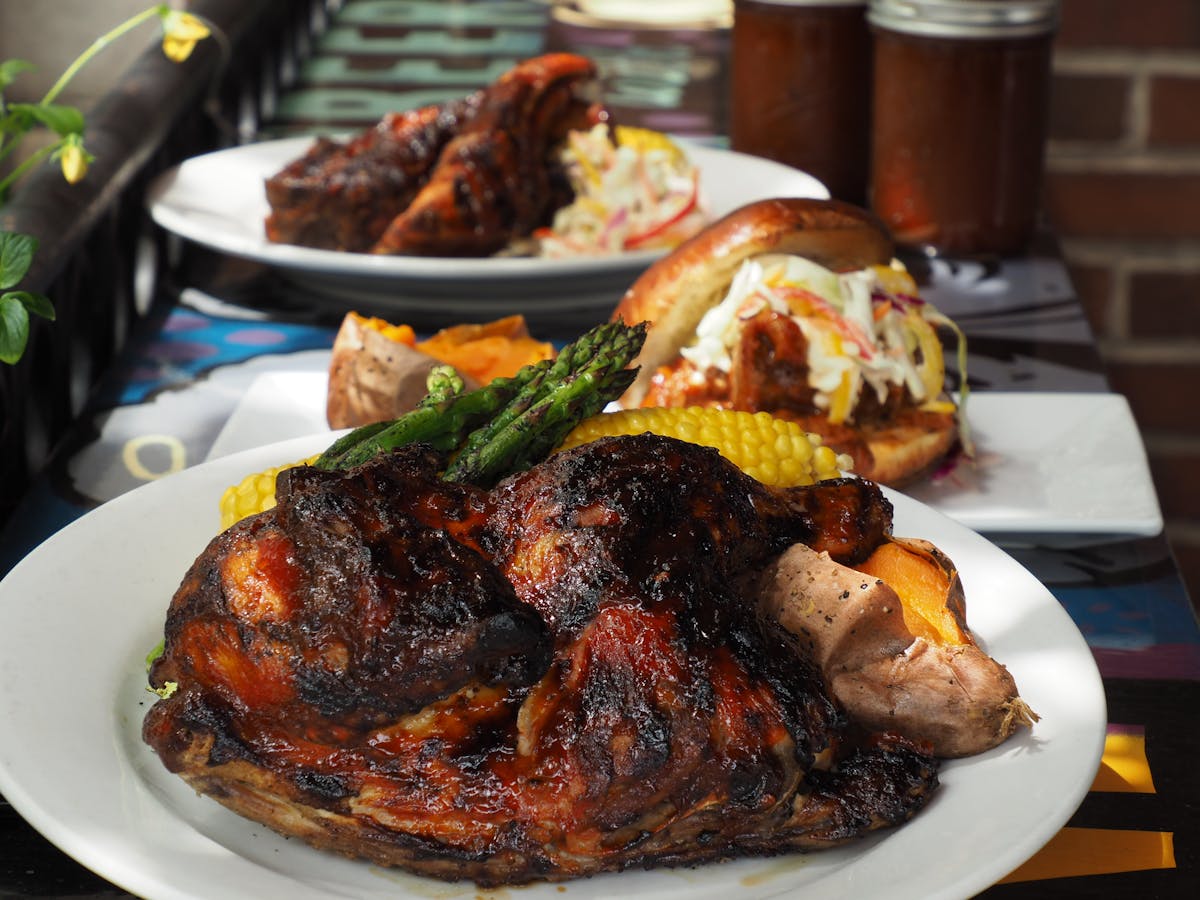 Servings 6 to 8 people
3 chipotle chile in adobo sauce
1 small white onion, diced
4 cloves garlic, minced
2 cups of ketchup
¾ cup real maple syrup grade A amber
½ tsp cinnamon
1 tsp mustard powder
½ cup apple cider vinegar
1/2 cup dark brown sugar
1 Tbsp oil
1 tsp salt
1 tsp black pepper
Directions
In a covered saucepot, sweat the onions and garlic in oil or 3 to 4 minutes on medium to low heat. Add the chipotle, cinnamon, mustard powder and cook for one minute. And the brown sugar and maple syrup. Bring the mixture to a boil. Add the ketchup, apple cider vinegar, and salt and pepper to taste. Let it simmer on low for 20 to 30 minutes or until you reach the consistency you like (more thin or thick). Remove your BBQ sauce from the heat. Let it cool slightly, then blend with a stick blender or in a standard blender until smooth. Use this with your favorite meat or protein. Try it on pork ribs, grilled chicken, grilled tempeh, and so much more!
Creamy & Tangy Summer Slaw
Servings 6 to 8 people
Slaw dressing
¼ cup apple cider vinegar
¼ cup horseradish
1 tsp mustard powder
1 tsp celery salt
1 tsp black pepper
2 Tbsp white sugar
1 cup mayonnaise
Directions
In a mixing bowl, combine the apple cider vinegar, horseradish, mustard powder, celery salt, black pepper, and sugar. Mix this until the sugar is dissolved. Add the mayonnaise and whisk until it's well blended, consistent, and creamy texture. Set the dressing aside until needed. (It is best to make this in advance.)
For the slaw
½ head green cabbage shredded
¼ head red cabbage shredded
1 red pepper julienne
1 yellow pepper julienne
1 red onion julienne
2 medium carrots shredded
You may add anything you like to your slaw or use a pre-made bag of slaw mix
Directions
When all the vegetables are cut, place them in a bowl. Mix in some to all of your slaw dressing, depending on how creamy you like it. Make sure the dressing is coating your vegetables evenly. Set this aside until you are ready to eat. You can find a lot of nice produce at your local farmer's market to put in your slaw. Have fun using different ingredients.