Red Curry Glazed Salmon or Tofu with Coconut Brown Rice, and Wasabi Soy Slaw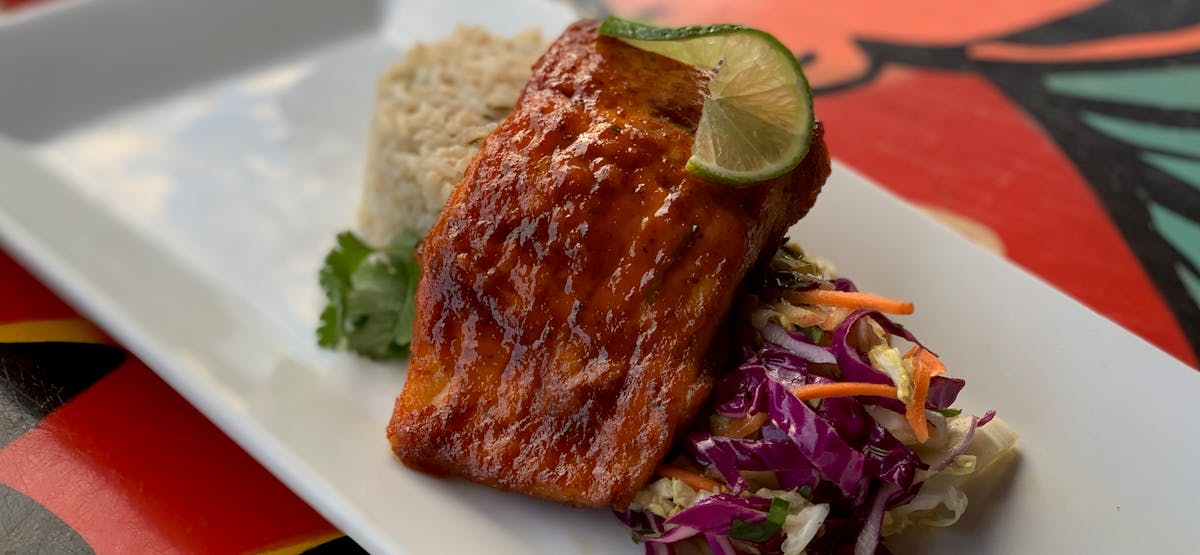 This is a nice healthy low-fat and low sodium dinner with great omega-3 fatty acids and whole grains. Experience good health benefits from the curry paste due to the spices and ginger in it.
Directions
Step one: Coconut Brown Rice (prepare about an hour before dining)
1 cup of brown rice
1 cup low fat coconut milk
1 1/2 cups of water
1 tsp salt
4 scallions (greens part only) sliced
In saucepot place, coconut milk, water, brown rice bring to a boil then reduce heat and cover. Let simmer for 35 to 40 minutes till the liquid is absorbed. Allow to rest for 5 minutes with the lid on. Right before serving add scallions and mix with a fork.
Step two: Wasabi Soy Slaw
2 cups Chinese cabbage julienned
1/2 head red cabbage julienned
1 each red apple of your choice julienned
1/2 cup fresh cilantro chopped
1 medium carrot julienned
Mix all in a bowl and set aside until ready to serve
Wasabi Soy Dressing
2 tbsp mirin (rice wine)
1 tbsp soy sauce (use tamari for gluten-free)
2 tsp honey or agave nectar
2 tsp sesame oil
1-2 tsp wasabi paste
Whisk all together and toss with slaw when ready to serve
Step three: Glazed Salmon or Tofu
Preheat your oven or broiler to 400
45 oz salmon fillet with or without skin (optional)
1 block of firm tofu
Ingredients for glaze
1 tbsp Thai red curry
2 tsp light brown sugar
1 tsp soy sauce (use tamari for gluten-free)
1 tsp chopped ginger
1 tsp fresh lemongrass (optional)
2 tsp fresh cilantro
To make the glaze: blend all ingredients but the cilantro in a blender until smooth
Add the cilantro and pulse 2 to 3 times. Set aside.
Heat an oven-safe skillet. Add a teaspoon of olive oil. Sear the salmon on one side, then flip it over and add the glaze. Place skillet in oven or broiler until your preferred temperature (medium recommended.)

For tofu
Coat all sides of the tofu in the glaze and place on an oiled sheet pan.
Bake/broil for 10 minutes
Serve all components together, and enjoy!
Red Curry Glazed Salmon or Tofu with Coconut Brown Rice, and Wasabi Soy Slaw