Roasted Rep Pepper Hummus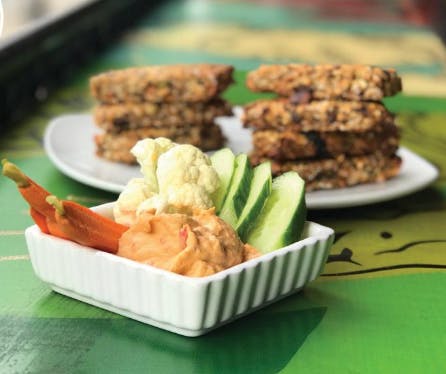 Back to school and office vegan and gluten-free lunch and snack ideas. Packed with protein and fresh flavors to be savored and enjoyed by all!
Makes four, 4 oz servings
1 12 oz can chickpeas (drain and rinse the chickpeas)
1/3 cup roasted red peppers (purchase or make your own)
5 cloves roasted garlic (or substitute 1 tsp garlic powder)
1 tbsp tahini
1 1/2 tsp salt
1 tsp black pepper
3 tbsp lemon juice
1/2 cup olive oil
Directions
Combine chickpeas, garlic, and half the roasted red pepper. Blend for 30 seconds to a minute, depending on how smooth you like your hummus. Remove the mixture and place in a bowl.
Mix the tahini, salt, lemon juice, black pepper.
Mix in the oil and remainder of the red pepper (diced) if you want chunky hummus.
Enjoy with pita, your choice of fresh veggies, crackers, chips, or lettuce wraps.