Whole Roasted Chicken with Local Apple-Raisin-Cranberry Chutney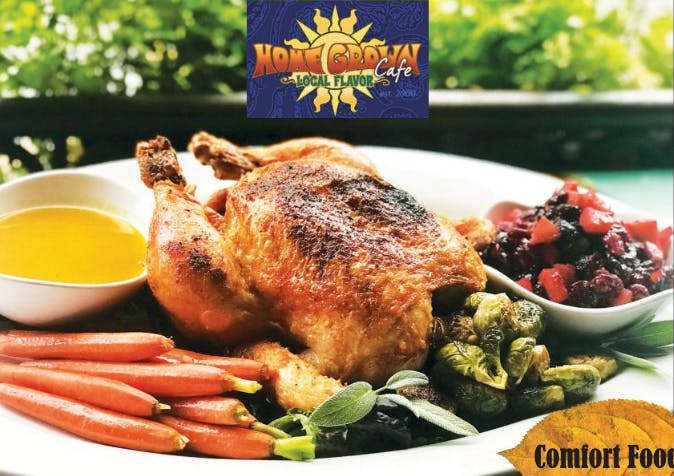 1 chicken (3 to 3 1/2 pounds)
2 tsp salt
1 tsp fresh-ground black pepper
4 strips (as opposed to shredded) of orange zest (from top to bottom on one side of an orange)
1 tsp. olive oil
1 package (12-ounce) fresh or frozen cranberries(about 3 cups)
1 tart apple
1 c. raisins
1/2 c. brown sugar
1/2 c. apple juice or cider
4 tsp. cider vinegar
1/4 tsp. ground ginger
1/2 c. orange juice (from about 1 orange)
Directions
Heat the oven to 425°F. Rub the chicken with 1 tablespoon olive oil, 11/2 teaspoon salt and 3/4 teaspoon pepper and put the orange zest inside. Put the chicken, breast-side up, in a roasting pan. Roast the chicken until just done, 50 to 60 minutes. Or until 160* internal temp.
In a medium saucepan, bring the cranberries to a boil with the apple, raisins, brown sugar, apple juice, vinegar, ginger, 1/2 teaspoon salt and 1/4 teaspoon pepper. Cover and simmer on low heat, stirring occasionally, until the liquid has thickened and the fruit is tender about 15 minutes.
When the chicken is done, transfer the bird to a plate and leave to rest for about 10 minutes. Pour off the fat from the roasting pan and save. Set the pan over moderate heat and add the orange juice. Bring to a boil, scraping the bottom of the pan to get the brown bits. Boil until reduced to approximately 1/4 cup, about 4 minutes. Add any accumulated juices from the chicken. Serve the chicken with the orange sauce and the chutney.
Serve with your choice of side. recommendation roasted butternut squash, mash potatoes, green bean almondine, roasted Brussels sprouts.
Whole Roasted Chicken with Local Apple-Raisin-Cranberry Chutney