Chewy Trail Mix Granola Bars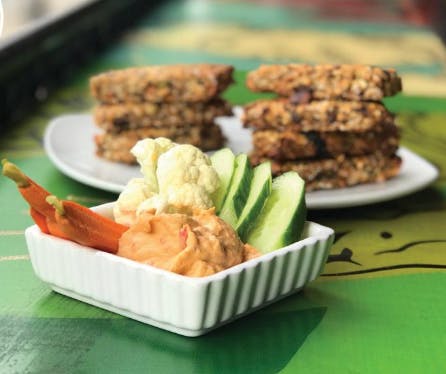 Makes 12 bars
2 tsbp tri-colored quinoa
2 tsbp chai
2 tsbp super seed mix (Trader Joe's or substitute your own) - contains buckwheat groats, millet, chia seeds, flax seeds, quinoa, hemp seeds, amaranth
2 tbsp crushed almonds
2 tsbp sunflower seeds
1/4 tsp cinnamon
1/8 tsp nutmeg
1 tsp salt
1/4 cup apple sauce
1 1/2 cup warm water
2 tsbp real maple syrup (you can sub agave nectar or honey)
2 1/2 cup rolled oats (make sure these are not quick oats)
1/2 cup unsweetened coconut flakes
1/2 mix dry berries of your choice
1/4 cup sugar

Pre-heat your oven to 350 degrees
Line a baking sheet with parchment paper
Mix the first group of ingredients with the apple sauce, sugar, maple, warm water let sit for 20 minutes. They should become jelly-like.
Add in the remaining ingredients. Mix until incorporated, being careful not to over stir.
Let it set for 5 minutes.
Place the mix on the parchment-covered baking sheet, spreading it 3/4 to 1 inch high.
Bake for 15 to 20 minutes until they just begin to turn golden brown. Remove from the oven and let it cool to touch.
Cut into 11/2 inch by 2 to 4 bars
Place back on the sheet pan and bake for 15 to 20 minutes till lightly brown on the edges.
Let cool and enjoy.
Store in an airtight container for 3 to 5 days at room temp or 5 to 7 days in the refrigerator.