Roasted Squash Casserole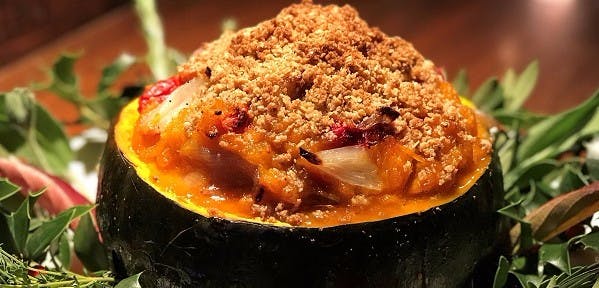 This delicious medley of winter squash, confit shallots, fresh cranberries, and spiced oat crumb topping from Executive Chef Andrew Thorne of The Home Grown Café can be served in a bonbon squash to turn up the "festive" table setting!
Ingredients
1 butternut squash
1 kabocha squash
2 acorn squash
4 shallots
1 cup oil
1 teaspoon cinnamon
1/2 pound butter
1 teaspoon salt
1/2 teaspoon pepper
1/2 bag fresh cranberries
1 large bonbon squash for serving (or a casserole dish)
Crumb topping:
1/2 cup pecans or walnuts
2 cups oats
1/2 pound butter, melted
1/2 cup brown sugar
1/2 teaspoon cinnamon
1/4 teaspoon allspice
1/8 teaspoon cayenne
1/4 teaspoon nutmeg
Directions
Preheat oven to 350°. Cut the top and bottom off shallots and peel the outer skin. Place in baking pan with oil. Place foil over and put in oven bake until golden brown, about 30-45 minutes.
Cut each winter squash in half. Remove seeds. Place face down on a baking sheet and roast in the oven at 350° for 30 to 45 minutes until soft. Remove squash flesh and place in a bowl. In food processor place nuts, oats, butter, cinnamon, allspice, cayenne, nutmeg, and brown sugar. Pulse 10 times. (Do not over mix, or the crumb will become sticky.)
Fold the squash and cranberries and shallots together. Place the mixture in a casserole dish or the 3/4 of the bonbon squash. Sprinkle the crumb mixture on top. Bake at 350° for 30 to 40 minutes until the top is golden brown and hot. Remove and serve.